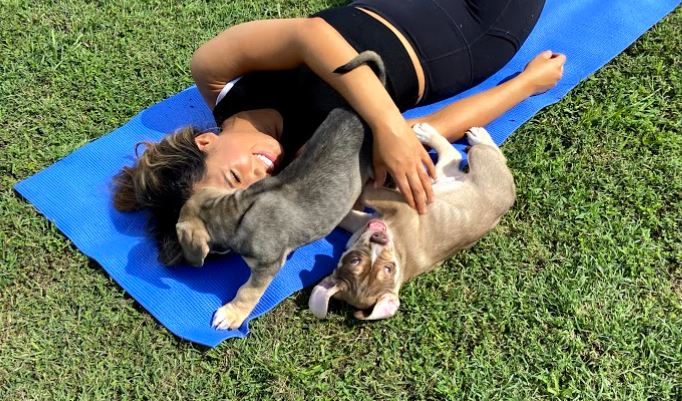 Date
May 22 - 23 2021
Expired!
Puppy Yoga
May 22 and 23, 2021
SOCIAL DISTANCING NEVER LOOKED SO CUTE! 
May 22nd and 23rd
Session 1 –  10:00 am – 11:00 am
Session 2  – 11:30 am – 12:30 pm
Yoga instructor Jamie Gibbins is joining forces with the Fred SPCA for a basic Hatha class, including Sun Salutations, standing poses, seated poses, and a simple inversion or two. All focused on centering, relaxing, and finding peace on our mats with some puppies!
Funds raised from ticket sales go to our lifesaving mission! We are so thankful for all who help us have fun & raise money for a good cause!
To purchase tickets: https://fredspca.salsalabs.org/puppyyogamay2021
We provide:
– 1 certified yoga instructor for an hour-long session
– PUPPIES!
– A 30-minute after-yoga cuddle session
– Hand sanitizer station
– Our unwavering gratitude for your support of our mission!
You provide:
– Your own mat/water bottle
Safety: We recommend the use of masks but do not require them for outdoor yoga sessions. In the case of inclement weather, puppy yoga will be moved inside to our community room and masks will be required.
Limit bringing any personal items with you and keep everything in your car if possible.
There will be markers for each person to set up their yoga mat to keep a 6 ft distance between each person.