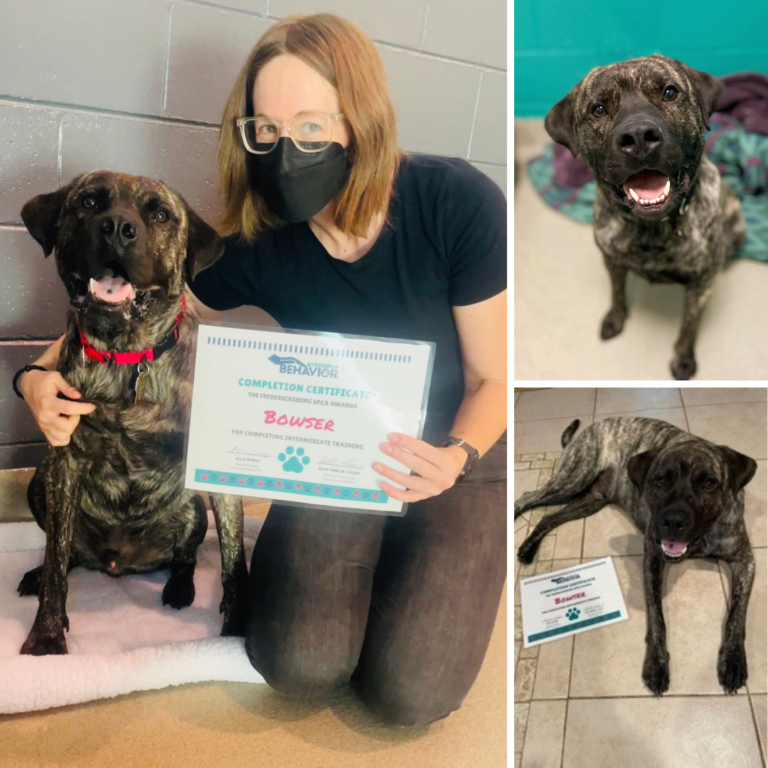 We love seeing how our programs impact the community, especially when #FredSPCAAlumni are involved! Check out this feedback email we received from an adopter who enrolled her dog in our behavior classes! From a scared shelter pup to a confident companion, Bowser made huge strides! Reserve your spot at fredspca.org/behavior if you're looking for affordable, positive training with a certified instructor!
"When we adopted Bowser from the SPCA, I knew training was something I'd like to pursue with him. He was so timid and frightened in the shelter, but he was such a gentle sweetheart that I knew he'd grow his confidence with a little help. I was so grateful that the SPCA had beginner training classes so we could start working on the basics. Our first day, it took me 30 minutes to get Bowser in the car and when we finally got to the shelter for classes, he refused to cross the threshold. Beth the Behavior Coordinator was so patient and kind with him and she convinced him that school was okay and that it was safe to come inside. Once he was in, he flourished quickly! With Beth's well-informed guidance and care (and a clicker!), he caught on to the basics in no time and we were even increasing the difficulty levels before too long. We had helpful handouts to review at home so we could keep practicing and stay consistent. By the end of the 6 weeks, Bowser was a different dog! The pup who wouldn't let me get more than a steps or two away would stay while I went across the room! He knew "sit," "down," "touch," "wait," "look," "come," and "leave it" and was so proud to show us what a good boy he was becoming. I was so pleased with how well he was doing that as soon as we finished the beginner class, I signed him right up for the intermediate class.
I was thrilled with how much we were able to improve in the next level! Bowser had been apprehensive of strangers, but this class had him listening to and obeying new people and wagging his tail happily while he did it. He learned how to go to his "place" when asked and stay patiently and calmly where he was told, even when I was out of sight completely. We learned how to manage recall even in the midst of distractions, and we learned "leave it" for even more challenging items, like food on the ground during a walk. Bowser LOVES snacks so any food on the floor is his biggest weakness, but we were able to conquer it! By the end of the second 6 week course, I can absolutely say he's a much more confident dog who loves to show us how well he can listen!
I can't recommend Beth's classes enough! She really knows her stuff and is so thoughtful in her approach. Bowser learned a lot, but I also learned a ton from her and came away from the classes feeling more confident myself. If your dog already has some basic commands and skills down and you're looking to build on your existing training knowledge, please consider the intermediate class! Bowser says "5 stars"!"