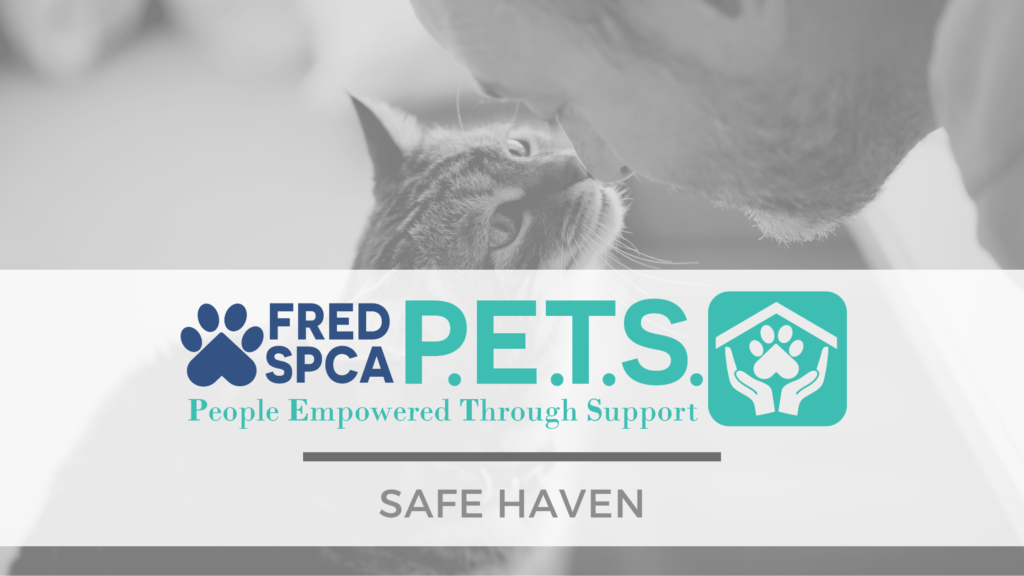 It is no secret that the love of an animal can change lives. The special bond one shares with their pet can be felt in the depths of your soul. That's why when a Fred SPCA adopter showed up at our doors distraught, we were so grateful our People Empowered Through Support program was here to help.
In November of 2021, one of our kittens, Spookie, pulled on the heartstrings of a gentleman looking for a friend. They were each other's soul companions during a time when the connection was needed. From the moment they became a family through adoption, they had not spent a single day apart. 
Recently, Spookie's owner reached out to us in tears needing a place for his cat to stay for two weeks, as he was changing his living situation and going through a very rough time in his life. The Fred SPCA was able to take Spookie in temporarily through our Safe Haven program so the two could eventually be reunited. In several shelters across the country, temporary foster placement is not yet an option, and families are forced to surrender their loved pets when they hit hard times. If the past couple of years has taught us anything it's that we are all susceptible to hardships and coming together as a community is important now more than ever. 

Spookie's owner was in a more comfortable living situation within two short weeks and the pair was able to come together again. The beautiful reunification of this family would not have been possible without the supporters of the Fredericksburg SPCA. The focus on growing our programs to provide resources like Safe Haven to our community has been an important aspect of our mission. Without fosters, we would not have kennel space or temporary housing for pets to stay in. Monetary or supply donations ensure that we can keep our program running to help keep pets in homes that already love them.