Thanksgiving: Note of Gratitude
Paula, a People Empowered Through Support (P.E.T.S Program) client needed help to escape a domestic violence situation and had nowhere that could house her and dog, Fred SPCA Alumni, Whipp. Safe Haven is a component of the program to help those who need temporary assistance with boarding their pets while they are in crisis. We received the sweetest update and note just in time for Thanksgiving! It means so much to hear how the programs we work so hard to establish have had an impact. Keeping pets & their families together is at the forefront of our People Empowered Through Support Program. Read Paula's update for warm & fuzzies! Help us keep our programs funded by making a Facebook Fundraiser or donation today just in time for #GivingTuesday!
"Three years ago May 2019 I lost my emotional support dog who ended up passing away at 3 1/2 years old from a uterine infection that quickly spread through her tiny 6-pound body. Shy-Shy was my 5th rescue and I really thought I would have her by my side for the remainder of my life.
After mourning her loss and giving her a proper burial I told my youngest son Jeremy in August that I was ready to adopt another rescue and he chose Whipp from Fredericksburg SPCA.
I was hesitant at first but soon grew just as fond of Whipp as I felt for Shy-Shy! I was very grateful for the Clear the Shelters Day that helped me find a new forever friend.
As you can see he is my big baby and his coat is so soft and cuddly & he loves my grown sons, my grandchildren and is playful with other dogs too.
After having Whipp for 3 years and promising Whipp a forever home I found myself experiencing domestic violence by a family member and decided to move out of my apartment.
I was extremely stressed about what I was going to do with my dog Whipp until I reached out to the Fredericksburg SPCA where I adopted him from.
P.E.T.S. Coordinator, Katie, assured me that they would take Whipp into Safehaven Shelter and take good care of our boy. After being separated from my best friend for two months, but visiting him often, I was finally settled in & ready to bring Whipp home on November 3, 2021.
I can't thank this organization enough for everything that you have done to make me feel comfortable with my decision, accommodating our visits, keeping me updated on what he may need when I arrive for a visit. And the contact through email between me & Katie, as well as your staff members and volunteers that took such great care of Whipp for two months for our family who loves him and doesn't want to lose him in our family.
You deserve all thanks and praise for the amazing job you are doing for families and broken-hearted people like myself. Whipp has brought us so much joy and companionship! His first 24 hours back home he wouldn't leave my side & I loved every minute of his company just as I do every day!
May God bless you with all the donations and funding grants you may need to continue doing the amazing job you are doing making love connections between humans and pets!
I am eternally grateful for you putting Whipp in our lives and for supporting our family and our fur baby going above and beyond! Happy Thanksgiving & Happy Holidays I am grateful for your organization.
Warm Regards,
Paula & Family"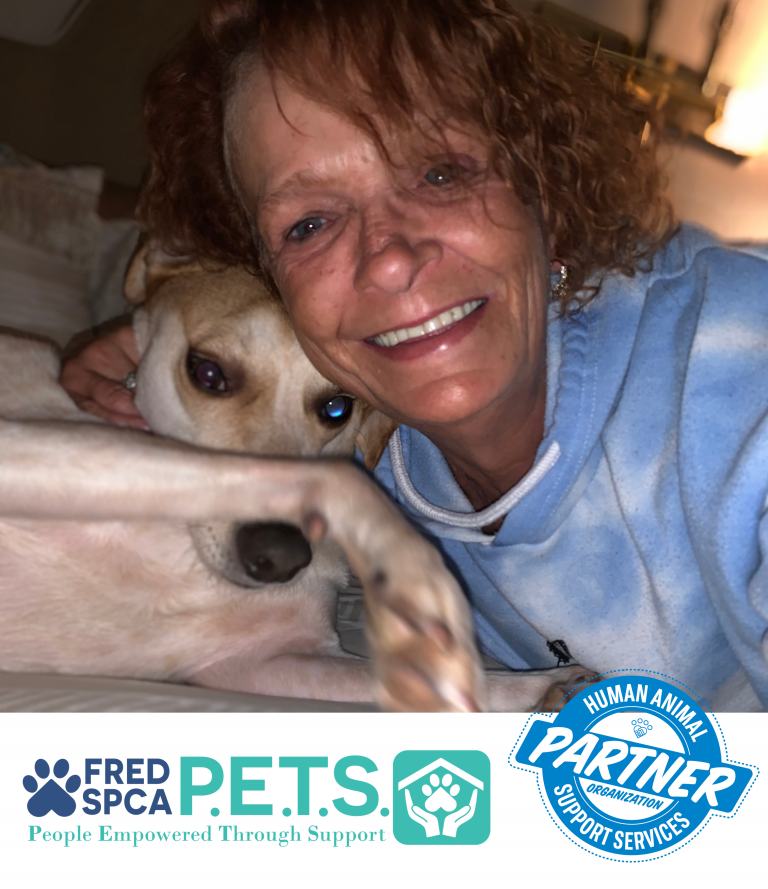 As an extension of our P.E.T.S. Program, Safe Haven was able to provide Paula the opportunity to secure her new housing without having to surrender her beloved family member. Keeping families together has been the core of this program and we're thrilled to announce our participation in a new animal welfare movement to provide an expanded range of services to the community, all designed to keep more pets with the people who love them. As one of hundreds of organizations involved in the Human Animal Support Services (HASS) project, we'll be expanding our work to help owners access resources to keep their pets; get lost animals home faster; provide more pets with housing in foster homes and more! Read more about this new, lifesaving work at www.humananimalsupportservices.org/