This past quarter, the Fredericksburg SPCA has received an outpouring of support through various fundraising initiatives. We are incredibly grateful to the people and companies that have contributed to our mission. As we approach our 80th anniversary in 2023, we remain committed to making our community a better place for both people and pets!
Strangeways Brewing: Kenny Brown Ale: Kenny Brown was an animal lover and a well-known figure in the Fredericksburg community. To commemorate his life, Strangeways Brewing crafted a special brew in his honor. For every sale of Kenny Brown Ale, $2 was donated to the Fred SPCA. We are thrilled to report that we received $2500 through sales. A big cheers to all who raised a bottle to celebrate the life of this great man.
Topside Federal Credit Union: Topside FCU is committed to making a difference in the community by partnering with local non-profits each quarter. This quarter, they chose the Fredericksburg SPCA as their inaugural charity of choice. To further support the SPCA, they went above and beyond by sending our dedicated team to a Fred Nats game, where they presented a check for $5000. This generous donation will help spread awareness and highlight the positive impact of the SPCA in the community.
Nothing Bundt Cakes Golf Tournament: We were grateful to be named the beneficiary of Nothing Bundt Cakes' 2023 Golf Classic! It was heartwarming to see many people come together for a good cause. The event was a huge success, with Nothing Bundt Cakes raising $3000 for the Fred SPCA. We extend our heartfelt gratitude to everyone who participated in this event and helped make it a (sweet) success! Eat cake & do good!
Keller Williams: Excitement filled the air as Keller Williams brought his benefit concert back to his hometown of Fredericksburg. The event was a huge success, with tickets selling out quickly raising $6000 for the Fredericksburg SPCA! But that didn't stop Williams from going above and beyond – he organized a tailgate pre-party to gather even more donations for the homeless animals. A big thank you to Keller Williams and all the attendees who partied like animals for the animals.
Virginia Veterinary Centers: After the success of the Angel Trees initiative during the winter holidays, the Virginia Veterinary Centers (VVC) kept the momentum going for the spring season. As we prepared for an estimated 400 kittens to make their way through our doors for the season, the need for supplies will be constant. We extend our gratitude to VVC for organizing and sponsoring the donation stations for kitten supplies and to the participating veterinary offices and community that collected/donated so many supplies to the springtime Angel Trees! Banfield Pet Hospital of Massaponax, Banfield Pet Hospital of Fredericksburg, St. Francis Animal Hospital, Tidewater Trail Animal Hospital, Ferry Farm Animal Clinic, Fredericksburg Animal Hospital, Confederate Ridge Animal Hospital, VCA Chancellor Animal Hospital, England Run Veterinary Clinic & Hartwood Animal Hospital!
Dance Matrix: The creativity of our community is astounding! We are grateful when people put their talents to a good cause.  Dance Matrix is a great arts organization that produces an annual show with other local nonprofits to help raise money for their causes. We are fortunate to be the partner this year!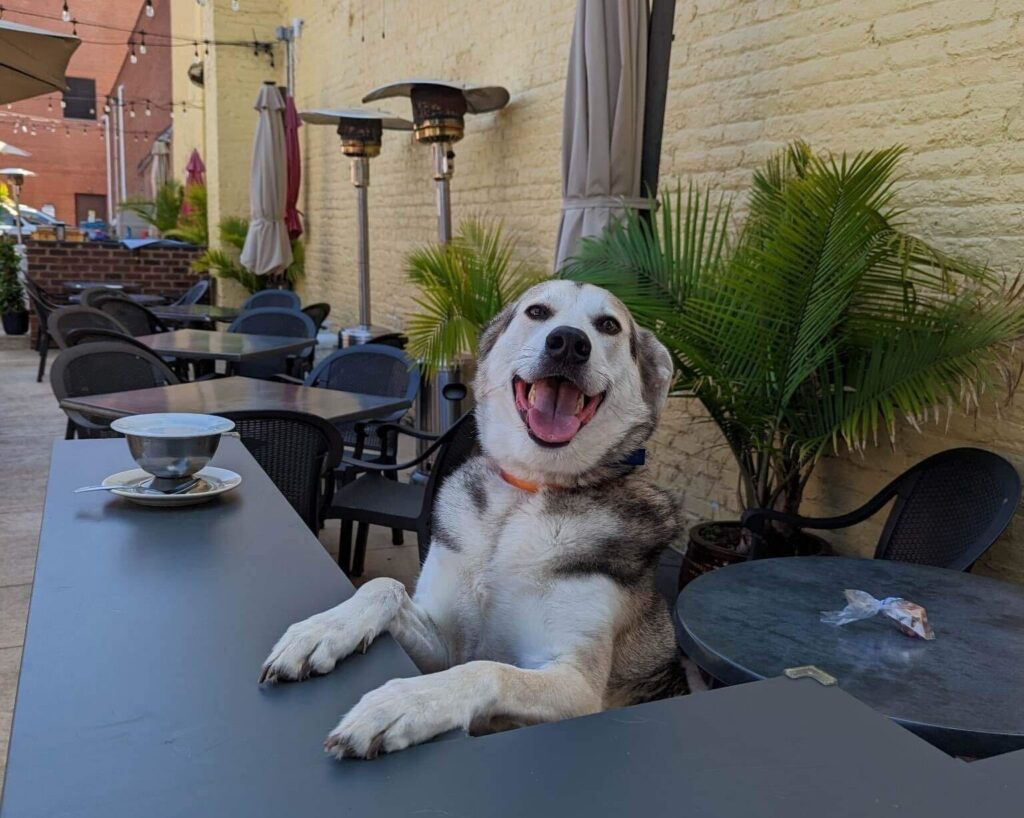 Ristorante Renato: raised over $300 from sales from the Yappy Hour they hosted in May. Thank you to Ristorante Renato and all who came out to drink and dine for the animals! Thank you to our Fred SPCA 2023 Ambassadog, Finn, for greeting patrons!
FXBG Jeepers: hosted a donation drive for the Fred SPCA to collect much-needed supplies! We were so grateful to be the recipients of their hard work. Development dog, Mojo was extremely excited to ride in the Jeep to deliver the donations to the homeless animals at the shelter!
Fusion Rehab & Wellness: collected kitten items through a donation drive at their locations! We are so thankful to Fusion for helping to keep our kitten shelves stocked with supplies as w have over 115 kittens in care!
yhb CPAs & Consultants: We are so grateful for each and every item that helps feed and provide comfort to our animals. Thank you to yhb CPAs & Consultants for collecting donations!
Rappahannock Foot and Ankle Specialists: donated $250 as proceeds from their quarterly Oofoos sales and we think that deserves a paw-five!
Luck Companies: To celebrate their 100th anniversary, Luck Companies donated $2000 to the Fredericksburg SPCA! We are so grateful that they chose to support our mission through their anniversary fund!
Our community is the driving force behind our success. Even the smallest donations can make a significant impact, helping us achieve greater things and continue serving our mission for years to come. With the ongoing support of our generous donors, we can accomplish our ambitious goals! Help us make our 80th anniversary a memorable occasion by making your gift today! We hope to continue our Fundraiser Features each month, please contact Director of Development, Melanie Johnson via M[email protected] to connect about fundraising and donations!