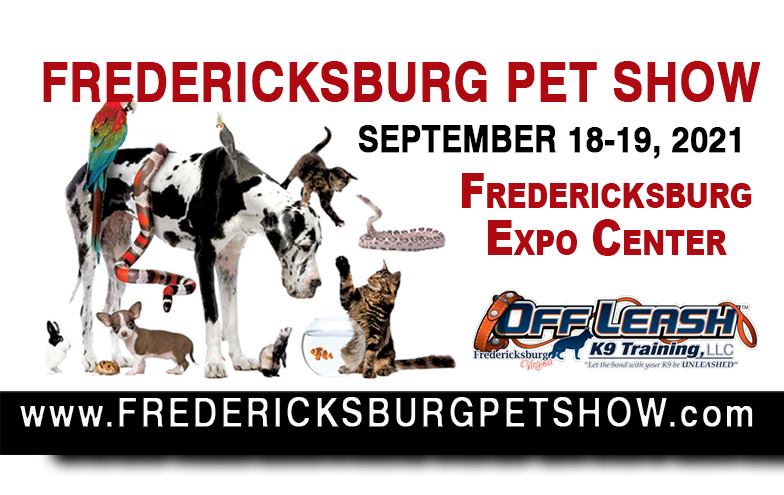 Date
Sep 18 - 19 2021
Expired!
Fredericksburg Pet Show 2021
Fredericksburg Pet Show promises fun for all. Come on down and visit the Fred SPCA booth to learn about our programs, browse merch and play some fun games!
**Info on the Pet Show**
The Fredericksburg Expo & Conference Center is set to host a weekend for Cats, Dogs, and lots of other adorable little critters. It's all at the 2021 Fredericksburg Pet Show sponsored by Off Leash K9 Training Saturday, September 18, and Sunday, September 19.
What can you expect to see? You will explore pet-related vendors with new products and services to help your pet, Specialty Clubs, kennels, SPCA of Fredericksburg plus other adoption and rescues in addition to the return of the Dogloversdays agility Course, Stuart the Awesome 'Possumz along with reptiles, and fun little Critters from All Creatures Animal Education. This show brings joy to pets and pet owners.
DUE TO CONTINUING SAFETY PRECAUTIONS, THE EXPO CENTER WILL NOT HAVE TICKETS FOR SALE AT THE BOX OFFICE.
TICKETS COST $8* for adults and $7* for seniors plus a *$1.50 Expo Center Processing Fee. ONLY AVAILABLE ONLINE.
http://www.fredericksburgpetshow.com
PETS are free to attend but will be required to have a "ticket". It's FREE all you need to do is to go to the same ticket page and register your pet to attend. KIDS 12 and Under do not require a ticket.