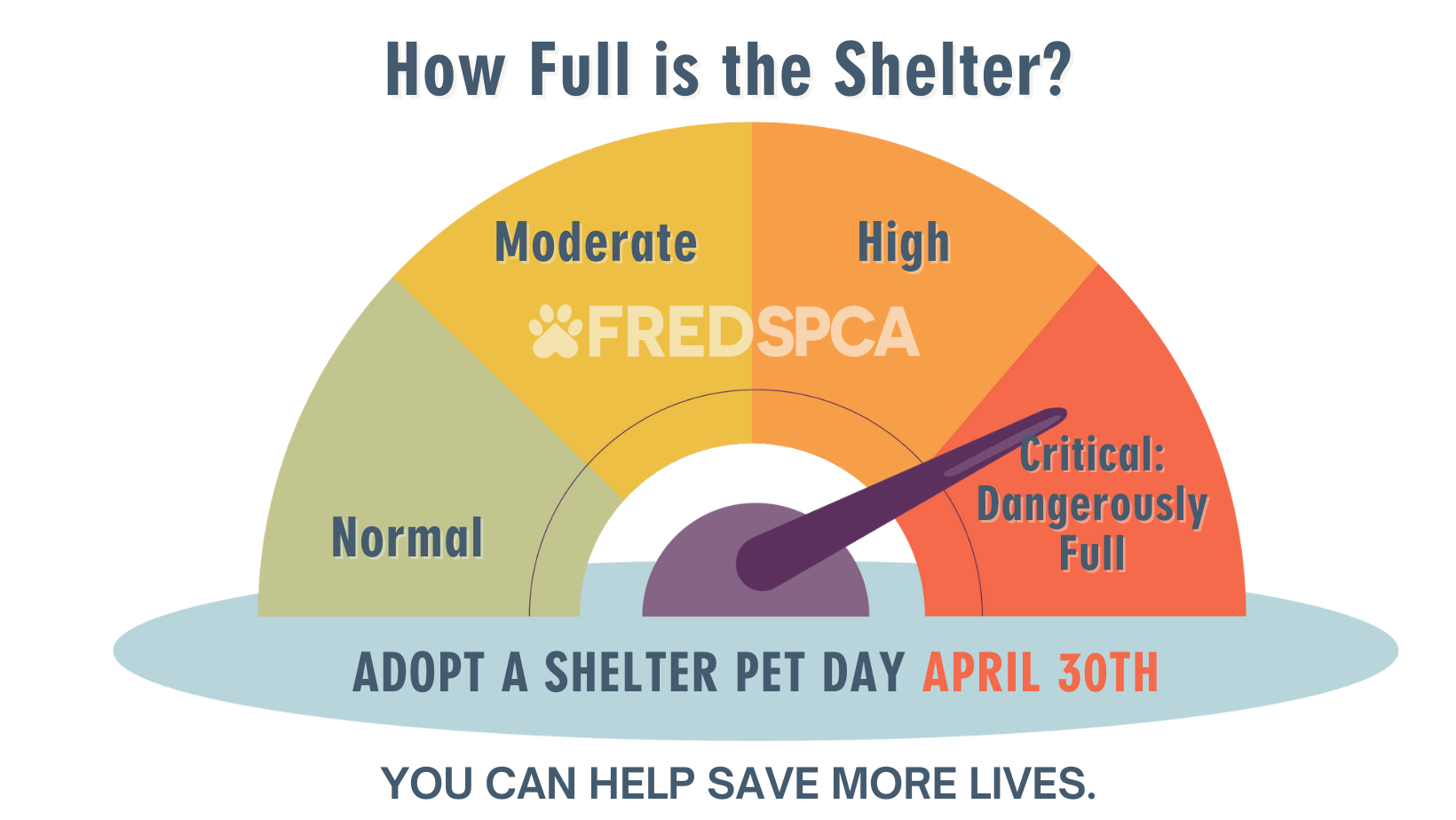 Date
Apr 30 2022
Expired!
Adopt A Shelter Pet Day
The need for adopters, fosters, donations, and support for local shelters and rescues is at a nationwide high. With the cost of living rising, many people are being forced to surrender their loved pets to their municipal shelters. The number of partner shelters that need our help to refrain from euthanizing their population is only increasing each day as the number of owner surrenders also increases. The Fred SPCA's life-saving reach is tethered by the capacity for care and resources that we have available. Our shelter has been experiencing critical capacity, with many dog kennels having to be partitioned into two to double-back animals.
On April 30 from 11:00 am – 5:00 pm for Adopt A Shelter Pet Day we will be opening up our doors to walk-in adoptions! There will be on-site foster sign-ups for animals that are not yet available for adoption and we will have our top (5) dogs and (5) cats fee-waived. Remember, adoption is not your only option with us, so if you are unable to adopt, fostering is a great way to get temporary companionship while saving lives!
ANIMALS LISTED IN FOSTER: For animals listed in "foster care", our Matchmakers will be happy to set up a virtual meet and greet for you and will honor any animals listed as fee-waived if adoption is made. Please email Matchmakers@fredspca.org to inquire, and fill out a cat/dog adoption survey at fredspca.org/adopt
ANIMALS AT THE SPCA: For animals listed at the SPCA, our Matchmakers will be happy to help you meet them on April 30! Our walk-ins are first-come-first-served, and we cannot accept holds. If you have other dogs in the home please bring them for a meet and greet!
*UNAVAILABLE ANIMALS: We are currently over capacity for our dog kennels and have LOTS of dogs that are not yet available for adoption but can be fostered! Fosters do get the first chance at adoption, so be sure to come in and meet with our staff who will be more than happy to connect you to an animal that you can foster, or foster-to-adopt.
*These animals will not show up on the website.